During the Chinajoy event, AMD officially presented its new mid-range graphics card, designed for 1080p resolution. The Radeon RX 6600 XT 8GB will come out to compete with Nvidia GeForce RTX 3060 12GB that was launched in February this year, which is priced at $ 329.
According to the red team, Radeon RX 6600 XT 8GB is upto 15% faster than the RTX 3060 in 10 tested games on 1080p resolution with maximum details and Resizable Bar activated. As always, AMD is smart and used all DirectX12 titles for comparison, as they know that Nvidia is underperforming with this API.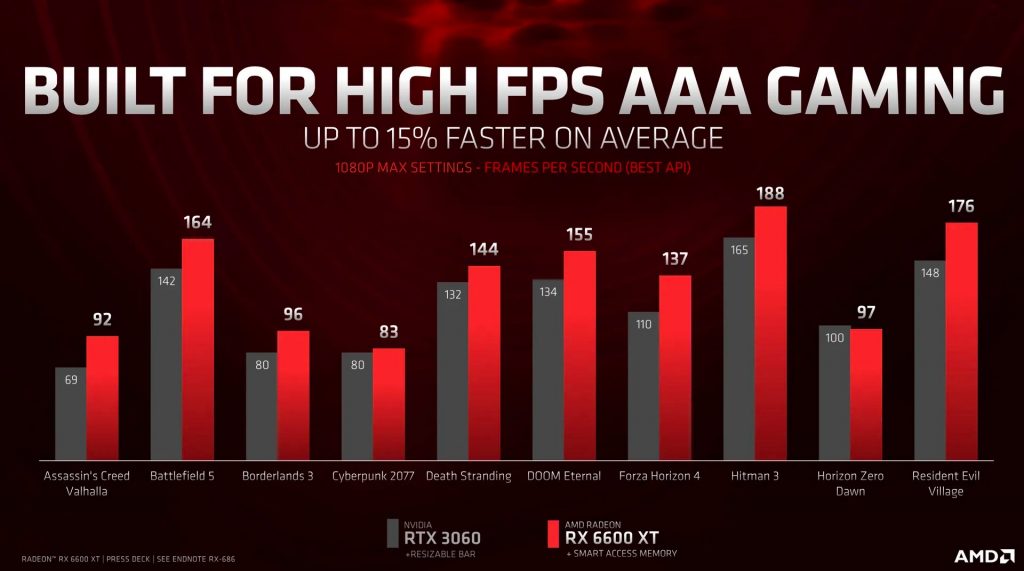 AMD also provided a performance benchmark against the RX 5600 XT, which used a downsized Navi 10 GPU. According to AMD, the RX 6600 XT is between 1.4 and 1.7 times faster than its GPU with RDNA1.
The RX 6600 XT is equipped with the Navi 23 XT chip with 2048 stream processors (the full configuration for this GPU) and its clock speeds are 2359 MHz for gaming mode and 2589 MHz for boost mode. Its TDP is 160 watts and is powered through a single 8-pin PCIe connector.
The Radeon RX 6600 XT will be released exclusively through AIB partners with their custom designs, so there will be no reference designs available. AMD promised that the RX 6600 XT will be available on August 11 for $ 379, $ 100 more than the RX 5600 XT.
AIB partners have prepared various designs, including Mini-ITX models, dual cooling system and even triple fan for the best performance and temperature.
AMD Radeon RX 6000 Series Specifications

RX 6800
RX 6700 XT
RX 6600 XT
GPU
Navi 21 XL
Navi 22 XT
Navi 23 XT
Nuclei
Infinity Cache
Boost Clock
Memory Clock
Memory
Memory Bus
Bandwidth
TDP

160W

MSRP
Release date
November 2020
March 2021
August 2021