In AMD's Ryzen processor architecture, the Infinity Fabric (IF) is a core technology. Only with this technology many CCX modules can be interconnected. Previously, Infinity Fabric was mainly used for the connection between CPU cores. Now AMD has finally started to use it for EPYC CPUs and Radeon graphics cards.
At the OGHPC conference, AMD introduced the memory consistency between the CPU and GPU through the Infinity Fabric bus. Now EPYC CPU and Radeon graphics cards can work together, and there is no issue with 4 sets of Radeon Instinct Accelerator cards.
AMD's Infinity Fabric is basically divided into two distinct components. Data Fabric scalability and Control Fabric scalability. Data Fabric scalability includes the HyperTransport concept, and the scalability in terms of cores/CPUs/dies etc.
The second, Control Fabric extends the same concept but on a more intelligent level. For example, Ryzen will have machine learning integrated into the processor design so it will get modestly better at recurring tasks or something like prediction management.
If we compare AMD Infinity Fabric with other technologies available in the market, NVLink 3.0 jointly developed by IBM and NVIDIA has achieved 300GB / s bandwidth. The bandwidth of the SlingShot bus developed by the company also reached 200GB / s.
Intel is also developing the CXL bus. It is planned to be based on the PCIe 5.0 bus technology and the bandwidth will easily exceed 128GB / s.
With AMD developed Infinity Fabric bus developed on second generation 7nm Zen2, the bit width will be expanded from 256bit to 512bit, and the bandwidth will be increased from 42GB / s to 92GB / s.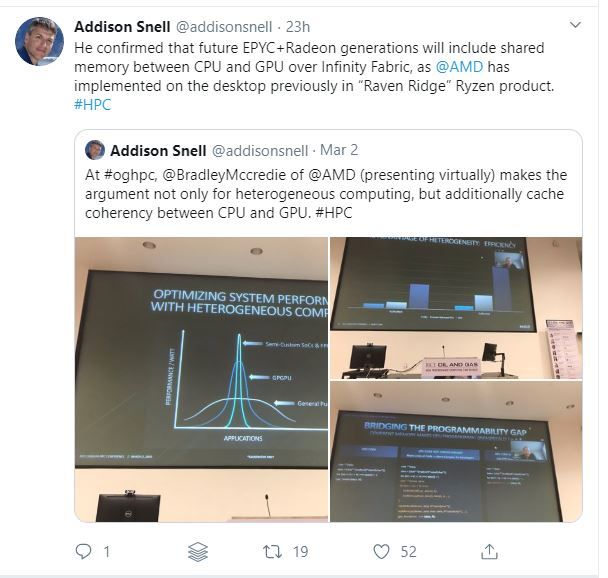 In early January of this year, AMD also hired Joshua Friedrich, a former development engineer for IBM Power 9 processors, as the vice president. The latter joined IBM in 1999 and has more than 20 years of advanced processor development experience.
After joining AMD, Joshua Friedrich will undoubtedly play an important role in the research of tight integration of EPYC processors and Radeon Instinct acceleration cards. Looking at it now, AMD does have such a plan, which is also the most important purpose of their acquisition of ATI 14 years ago.