AMD revealed how the last quarter of 2019 went, in addition to adding all the data to know how they performed in 2019 compared to 2018, and as expected, record numbers.
In summary, the 4th Quarter of 2019 closed with a 50% revenue growth compared to Q4 of 2018, and 18% compared to Q3 2019. This resulted in record revenues of $ 2.13 Bil thanks to the divisions of Computers and Graphics , while the enterprise market, embedded and semi -custom chips grew compared to Q4 2018, but fell compared to Q3 2019.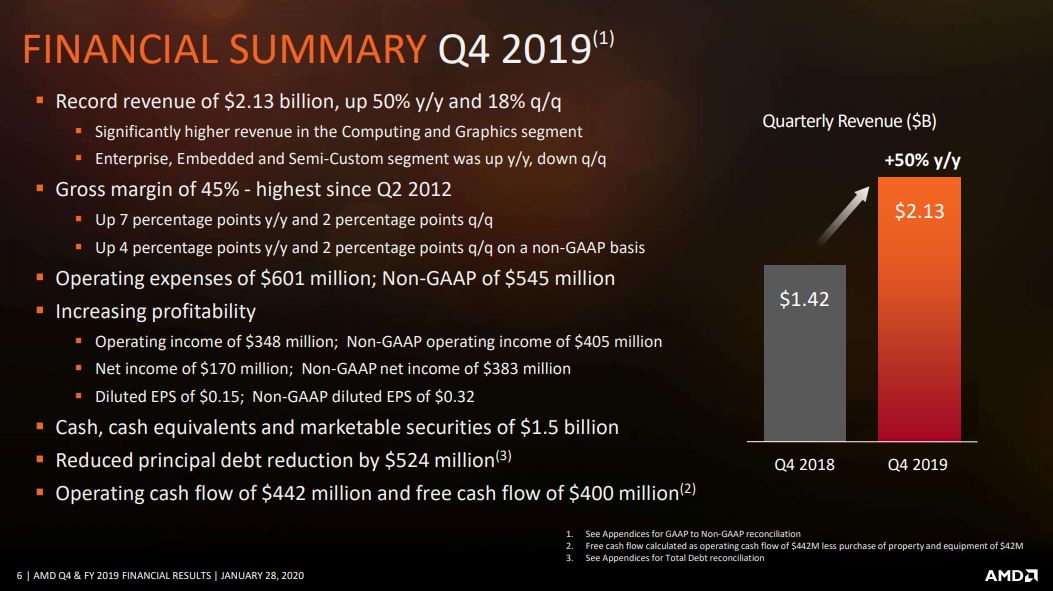 AMD Ryzen processors presented an annual growth of 69% and generated 1,662 million dollars compared to 968 million in Q4 2018. While the Radeon RX 5700 helped, but Ryzen 3000 processors and Threadripper CPUs were the stars of show on 2019.
While the embedded and semi-personalized chip divisions only grew by 7%, there is little to worry about, since EPYC CPUs are selling well, to the point of compensating for the fall of the custom chip market with PlayStation 4 and Xbox One that will go to a better life soon with PlayStation 5 and Xbox Series X, which will greatly boost the company's benefits during the second half of the year.
To give us an idea, AMD has gone from having operational losses of 6 million dollars a year ago, alone generating 45 million dollars from AMD EPYC.
AMD 2019 Annual Results Summary
Revenue of $6.73 billion was up 4 percent year-over-year driven by higher revenue in the Computing and Graphics segment partially offset by lower revenue in the Enterprise, Embedded and Semi-Custom segment.
Gross margin was 43 percent compared to 38 percent and non-GAAP gross margin was 43 percent compared to 39 percent in the prior year. Gross margin expansion was primarily driven by Ryzen and EPYC products.
Operating income was $631 million compared to $451 million and non-GAAP operating income was $840 million compared to $633 million in the prior year. The operating income improvement was primarily driven by higher revenue and gross margin expansion.
Net income was $341 million compared to $337 million and non-GAAP net income was $756 million compared to $514 million in the prior year.
Diluted earnings per share was $0.30 compared to $0.32 in 2018. Non-GAAP diluted earnings per share was $0.64 compared to $0.46 in the prior year.
Cash, cash equivalents and marketable securities were $1.50 billion at the end of the year compared to $1.16 billion at the end of 2018.
Principal debt was reduced by $965 million resulting in a GAAP loss of $176 million.
Free cash flow was $276 million for the year compared to negative $129 million in 2018.