During Intel Architecture Day 2021, the blue camp revealed first details of its CPUs with an architecture with a hybrid design, known as Intel Alder Lake.
We are facing what would be an ARM CPU with a big.LITTLE design, but under the x86 architecture, and in essence everything translates into combining high performance cores (Performance P-Core) with low power consumption cores (Efficient E-Core) to consume very low power and significantly reduce the temperature of the processor, when we perform daily tasks such as browsing the Internet.
According to the company, each E-Core offers 80% more performance and an 80% reduction in power consumption compared to Skylake @ 14nm cores at the same frequency.
Each P-Core offers a 19 percent improvement in IPC over Cypress Cove (Rocket Lake-S) cores, which in turn offered another 19% improvement over Skylake. These cores are paired with 96 EU Intel Xe integrated graphics to deal with everyday tasks.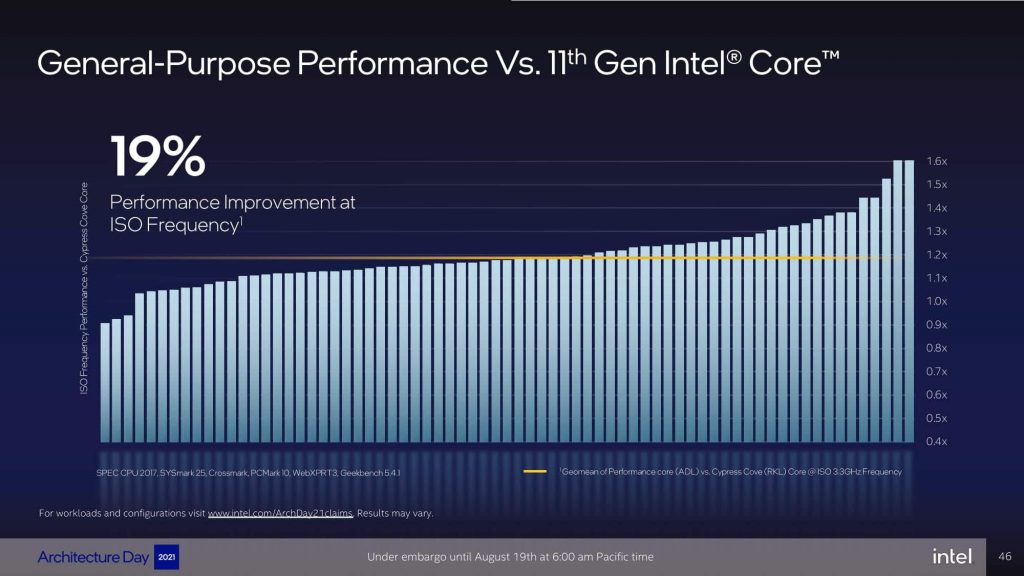 You Might Like: The first Intel Core CPUs designed by Jim Keller are the Alder Lake-S
Intel Alder Lake will cover all ranges, from offering TDPs from 9W to 125W for high-performance 'K' models in desktop computers (LGA1700). The new processors will use Intel 7 manufacturing process, although it is necessary to remember that its just renamed 10nm Enhanced SuperFin.
The top-of-the-range processor will offer 8 Performance cores + 8 Efficient cores, giving us a total of 16 cores and 24 processing threads, since the E-Core do not have HyperThreading, so a total of 30 MB of LL cache is non-inclusive.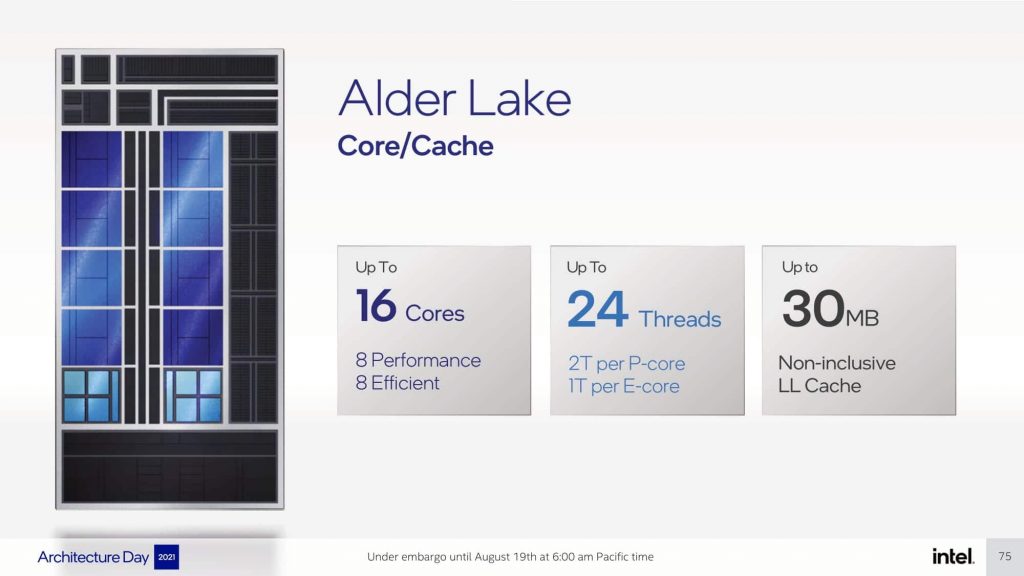 In terms of interconnection, we have the Compute Fabric with a bandwidth of up to 1000 GB / s, the I / O Fabric that reaches up to 64 GB / s, and the Memory Fabric that reaches 204 GB / s. The company did not detail the information regarding these three interconnections. On the other hand, Alder Lake's desktop processor will be supporting 20 lanes of PCIe, split between PCIe 4.0 and PCIe 5.0, which reaches a bandwidth of up to 64 GB / s, double that of PCIe 4.0.
The desktop processor will have sixteen lanes of PCIe 5.0, which we expect to be split as x16 for graphics or as x8 for graphics and x4/x4 for storage. This will enable a full 64 GB/s bandwidth. Above and beyond this are another four PCIe 4.0 lanes for more storage. As PCIe 5.0 NVMe drives come to market, users may have to decide if they want the full PCIe 5.0 to the discrete graphics card or not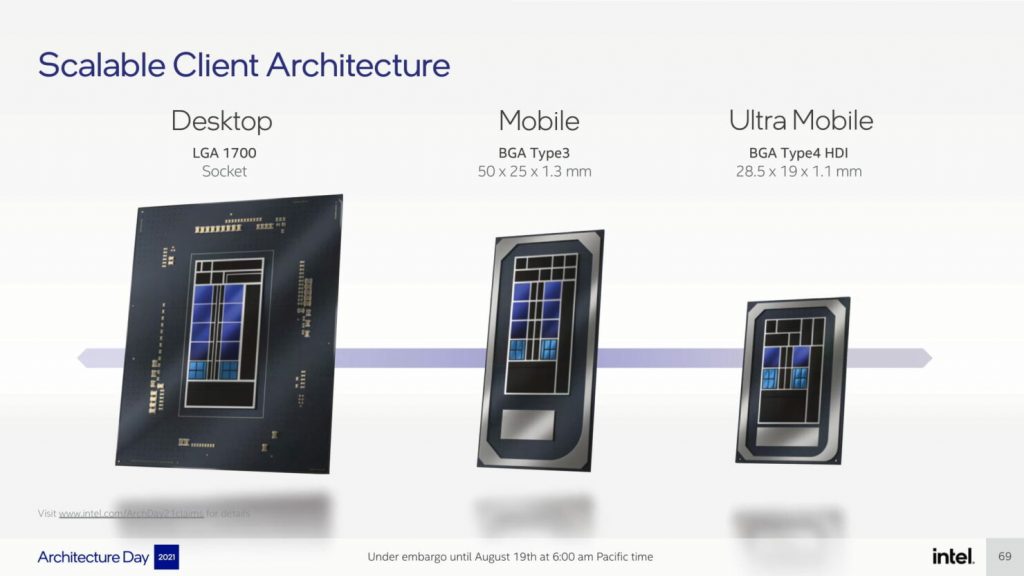 At last, we have a memory controller that supports DDR4 @ 3200 MHz, LPDDR4X @ 4266 MHz, DDR5 @ 4800 MHz, and LPDDR5 @ 5200 MHz RAM, and Intel has confirmed that their Alder Lake CPUs will perform better with Windows 11 as they will feature a hardware thread scheduler that will communicate with the operating system scheduler. This technology is called Intel Thread Director and it will dynamically adapt based on the thermal and power settings of the processor.