Acer Swift 3 would be the first laptop in the market to have the AMD Ryzen 7 2700U APU, although Acer does not confirm it and AMD has not presented Raven Ridge officially.
We have been waiting for a long time for AMD Ryzen mobile processors and Raven Ridge APUs and now it seems like the these new APUs arrival to the market is very close, because today we have details on the first laptop to be equipped with Ryzen Mobile processor, the Acer Swift 3. It is possible that manufacturers are trying to launch products, just before the Christmas season to take advantage of this period for more sales.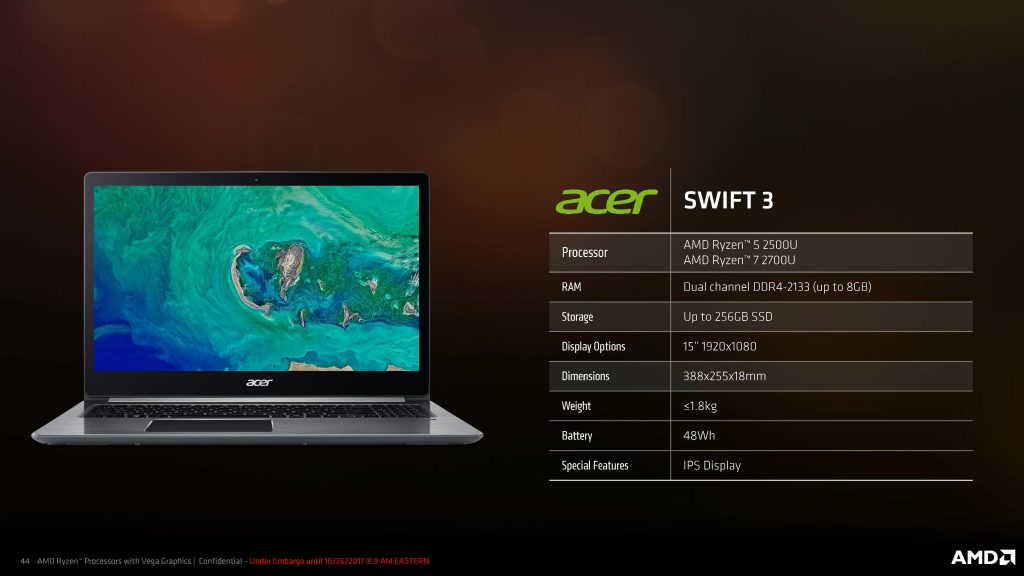 It was in October when Acer launched the Swift 3 portable laptop, which has an Intel Kaby Lake-R processor with four cores and also integrates NVIDIA GeForce MGX150 graphics, but apparently they would be preparing a portable laptop with a somewhat better processor, in this case it would be AMD Ryzen 7 2700U. This information is interesting, since for the time being Acer has not announced the update of these devices and AMD has not made these processors official for the segment of laptops.
Initially it is expected that this Ryzen 7 2700U (25W) has four cores and accompanied by Vega graphics. It will come with a 15-inch 1080p display and storage will be up to 256GB of SSD. Memory will be dual channel, although the system will only support 8GB of DDR4-2133, and there is no mention of potential upgradability there.
Note that the AMD Ryzen do not have integrated graphics and Raven Ridge are oriented towards entry gamers, who want a solution to play games at 1080p in low budget and now this is happening. More details about Acer Swift 3 will be revealed in next few days.
AMD Ryzen Mobile APUs

Ryzen 7 2700U
with Vega 10
Ryzen 5 2500U
with Vega 8
FX-9800P
(2015)
CPU
Quad-Core with SMT
2.2 GHz Base
3.8 GHz Turbo
Zen Cores, 14nm
Quad-Core with SMT
2.0 GHz Base
3.8 GHz Turbo
Zen Cores, 14nm
Dual Module
2.7 GHz Base
3.6 GHz Turbo
Excavator, 28nm
GPU
Vega 10
10 CUs (640 SPs)
Up to 1300 MHz
Vega 8
8 CUs (512 SPs)
Up to 1100 MHz
GCN 1.2
8 CUs (512 SPs)
Up to 758 MHz
TDP
15W
15W
15W
DRAM
Up to DDR4-2400
Up to DDR4-2400
Up to DDR4-1866
L2 Cache
512 KB/core
512 KB/core
1 MB/module
L3 Cache
1 MB/core
1 MB/core
–
PCIe Lanes
?
?
8 x PCIe 3.0
Die Size
209.78 mm2
209.78 mm2
250.4 mm2
Transistors
4.95 billion
4.95 billion
3.1 billion
Launch
October 2017
October 2017
May 2016