Using a pen to sign documents is now becoming obsolete. In a world where everything occurs online getting physical signatures on documents is no longer practical. Businesses and professionals are now using e-signatures. 
With electronic signature solutions, different people across the world can sign the same document instantly. The process is paperless and nothing needs to be mailed. Best of all, the electronic signatures are as valid as written signatures. 
However, not all online signature providers offer a reliable service. If you are ready to ditch physical handwritten signatures, this post shares the 8 best websites for signature online. 
#1  CocoSign
With CocoSign, you get a quick and reliable way to embed digital signatures on documents. This electronic signature is designed to streamline business processes. Best of all, you can sign documents on any device.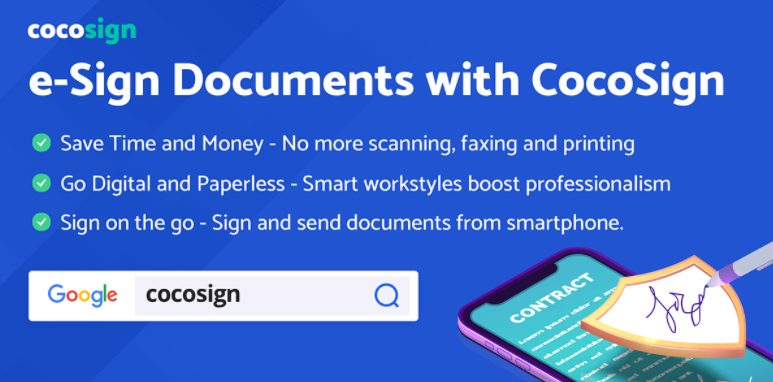 What's more, CocoSign provides you with unlimited storage for all signed documents. Besides, after signing up for the service, you get 14 days of a free trial. CocoSign complies with all the data protection laws.  
The service allows customers, employees, and partners across a company to insert their signatures on documents. With CocoSign, you can check it out here on how to create a signature online either by drawing or typing it. 
What features do you get with CocoSign?
Sign documents on the go
With CocoSign, you can sign documents on the go using any device. You only need to add your secure digital signature on the signature field of the contract. Best, of all, you get to save your signature for future use.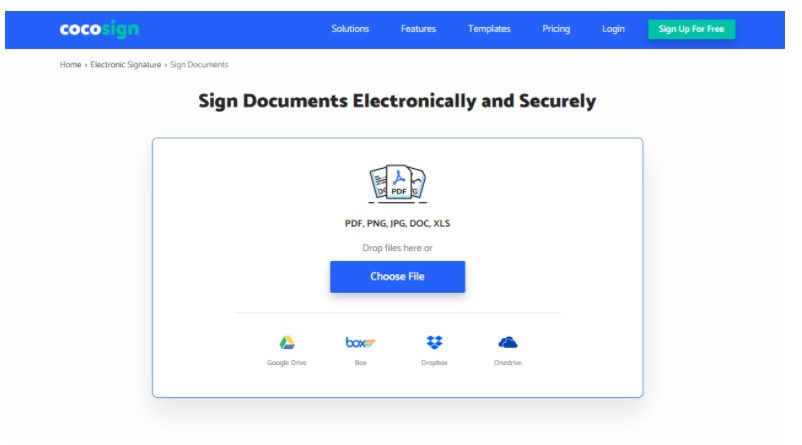 Define the signature sequence 
CocoSign allows you to define the order to be followed when inserting signatures. The service allows you to let the individuals signing either sign all at once or one after the other. 
Unlimited storage 
CocoSign provides secure storage for your documents before the documents expire. Also, you get to export your data to where you wish to save it. Alternatively, you can delete the files from the cloud storage. 
#2 DocuSign
This is another popular online signature generator used in different sectors among them financial and real estate. It has solutions for individual, global enterprises, and small businesses. 
So, it accommodates your needs regardless of whether you need to sign documents occasionally or regularly. DocuSign is a safe and secure online signature provider with compliance certifications for GDPR and HIPAA among others. 
#3 HelloSign
Another reliable electronic signature generator you can use for your needs is HelloSign. With HelloSign, it is a lot easier for anyone to add a legally binding signature on documents. Its features are designed for businesses. 
The signature generator includes templates, status notifications, audit trails, and support for different files. With HelloSign, you can use it from NDAs to employee onboarding among many other uses. 
#4 Adobe Sign 
Adobe is popular for software like Adobe Acrobat and Photoshop. So, the Adobe Sign e-signature solution provides a reliable service. Adobe Sign is great for small businesses that need a simple and secure way to sign documents. 
Some of the features in this software include signable website forms, enhanced authentication, and bulk signature. What's more, it integrates different platforms such as Dropbox, Microsoft Word, and Powerpoint. 
#5 SignEasy 
With SignEasy, you get one of the fastest ways of signing documents online. Its intuitive user interface makes it easy for anyone to use it. SignEasy is trusted by both professionals and businesses. 
It is a great choice if you need to sign documents online occasionally. Also, you can use the SignEasy app for both iOS and Android to sign documents on the go. You can use the software for simple NDAs and complex multiperson approvals. 
#6 KeepSolid Sign
This is a multi-platform e-signature solution that provides some unique features. With KeepSolid Sign, you can open documents and prepare them offline. Once you've signed them offline, they will be sent automatically when connected to the internet. 
The software allows you to create unique electronic signatures and archive them for future use. You have the option of drawing the signature on the app or importing it as an image. 
With KeepSolid Sign, you can use any device to sign documents online. The software is used in different sectors such as real estate, sales teams, and HR departments. 
#7 SignNow
With SignNow cross-platform e-signature, you get a robust solution that provides an easy way to embed electronic signatures. You can use SignNow to create a complex workflow of e-signatures. 
The software provides you a straightforward way of facilitating online signatures. Also, the software includes third-party apps. For instance, you can sync SignNow with accounting software and payroll systems among others. 
The software provides 14 days of free trial to its users upon signup. 
#8 Docsketch 
If you occasionally need to electronically sign documents, then Docsketch is a great solution. The software works on any device and best of all it is safe and secure. Docsketch e-signatures are legally binding. 
Businesses use Docsketch to include e-signatures in their workflow. The software is easy to use and comes with features you need to collect signatures and sign documents. It comes with features like audit reports and ready-to-use templates. 
Conclusion 
With these e-signature websites, you get the best e-sign solutions available. CocoSign is arguably the best comprehensive e-signature solution for most users both personal and business uses. 
Regardless of how big your business is, you need a way to eliminate physical paperwork.