As college students, we need to make the best of our time spent studying. If we are not efficient enough, there is a high chance we will not manage to complete our daily tasks. Thus, our productivity must be held to high standards, and our efficiency should as well. What I've learned is that the main requirement of a college student is that, by the end of the four years spent in college, he or she knows how to manage time properly and act efficiently under stressful conditions. That includes an ability to prioritize and a need to stay organized. 
With technology becoming increasingly important in our lives, we can now use mobile phones to help us stay on track and on top of our work. In the end, technology should be used for this exact reason – not for wasting time scrolling down on social media. Here are some of the technological ways in which you can boost your productivity in college. 
Time management and scheduling
The first thing that you can and should do on your mobile phone is keep track of your schedule and then, improve your productivity accordingly. If you are well aware of how procrastination feels like, you might want to use some technological tools to cut down on that. There are so many options out there that you wouldn't believe it!
Some of the apps that can help you keep track of your time spent working or procrastinating include Focus Booster or 30/30, while some tools that will boost your productivity and focus are Don't break the chain! or Freedom. The latter one will block apps on your phone and help you stay connected to your tasks rather than your social media buddies. 
You could also use Google Calendar or Outlook Calendar to schedule tasks or meetings. This is recommended even as a college student since it can help you structure your work and finish assignments by the deadline. 
A quick search will save your life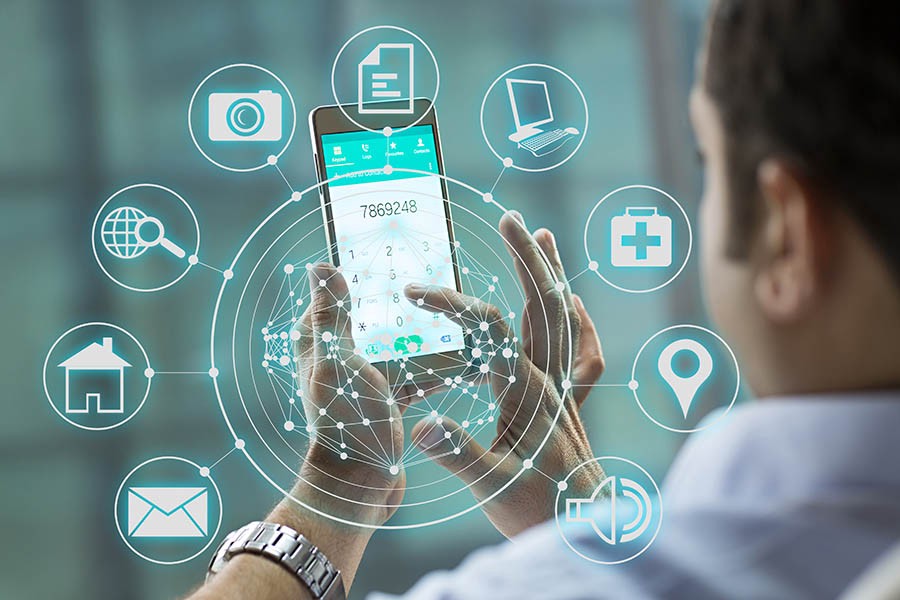 The coolest thing about technology is that it runs fast! Thus, whenever you need to find something academically related, all you need to do is run a quick search on Google Scholar. Here, you can find anything that you might need. This is a faster way of preparing yourself for tests and other exams. For example, you could use Quizlet to study for your History or Psychology exam. This app allows you to create sets of flashcards and play interactive games to learn the necessary content. It's pretty cool so if you haven't by now, you should check it out. There are also other tools that could ease up your studying process, such as online plagiarism checking tool, error-free checking tools, and professional content writing apps. 
Use mobile phone tools to relax
You could use technology as a means to relax. That does not mean you should scroll down on Facebook or Instagram and look at your friends' pictures. It means you could download apps such as Headspace or The Mindfulness App that could help you stay more focused in the long run. Studies have shown that 15-20 minutes of meditation per day can increase concentration and boost productivity, so this is something worth trying for sure. It could quickly help you improve your grades and academic motivation. 
Podcasts are the new trend
Another way in which you could use mobile phones for productivity is by listening to podcasts and thus, increasing your knowledge on various topics. School does not always allow us to get all the information that we need; we might be curious about topics that are not school-related. To keep our curiosity in shape and our knowledge expanding, we can now listen to podcasts. You can do this on your way to school or in-between classes, whatever fits your goals and needs. However, don't forget to get that extra information and use it to your advantage!
Check out your competition
If you are in the business world, you already know that tracking competition is something valuable and, many times, a must. You can now use your phone for this reason! Sign up for Twitter, Facebook, or Instagram to check out the latest brands and technologies available. As long as you keep track of what goes on around you, it will be easier for you to become productive. You will start noticing patterns and creating mental models that will help you succeed in life. For that though, you need to follow your competitors on social media and check out their newest updates and activities. 
Communicate and engage!
Last but not least, mobile phones can be a great tool for increasing communication. This can be related to both school and personal life – in school, you could use collaborative platforms to help you stay in touch with your peers and work on various projects together. In your personal life, these technologies help you stay in touch with your family and friends. Moving to another part of the world (or the state!) for college can be triggering so you must make sure that your mental health stays intact. For that, you must take good care of yourself!
Conclusion
Check out the tips above to make the best out of your college years. Become productive and spend less time working and more time having fun! Do it by understanding technology and applying it to your own life. Good luck!
<Author bio>
Michael Turner is an IT professional and a content writer at a writing service in UK. His profession helped him develop web-based skills that he now uses to change the world. Michael's favorite activity is writing articles for fun.