The online gaming community is growing massively in numbers, thanks to the wide range of free-to-play and Pay-to-Pay video games. But the real change in the numbers was observed when developers launched some of the most renowned titles on mobile platforms, like IOS and Android. These platforms brought many newcomers into the online gaming community, making it ever more widespread and stronger. While there were almost two billion video gamers worldwide in 2015, this figure is expected to rise to over three billion gamers by 2023. The entire video gaming market is also likely to be worth over 200 billion U.S. dollars by 2023.
Online gaming is as competitive as it gets. The practice is key to perfection, but do note that there is a lot that you need to have all the odds in your favor. If you want to be among the pros, you need a few software to help you achieve a smoother and better gaming experience. These tools will equip you with convenience in all matters, be it communications or boost your fps and lower down the ping. 
In our brief guide of 5 tools for professional gamers, we'll take you through some of the essential software that'll put you up on the best saddle of the course.
It happens quite often that your PC allocates resources to the background apps, especially the memory. If these apps are unnecessarily consuming your resources, then they might have a huge impact on your gaming performance. Division of the resources will leave a not as much for your video game, causing the FPS to drop. When the game starts up and all the resources hit their all-time high, there would also be overheating, which will ultimately hinder your smooth experience.
A game booster tool is your best buddy in this scenario. Such software will optimize your PC, shut down, or halt any unnecessary applications running in the background to free-up resources for your game. Razer Cortex: Game Booster is the most reliable tool for this purpose as It has an Auto-boost mode, where as soon as it detects launching a game, it will automatically free-up resources and instantly boost your performance. This will help you gather up as many resources for smoother gameplay as possible. 
Most people generally use a VPN (Virtual Private Network) to keep their online activities hidden and have a safer experience throughout the web. Changing your IP address with a VPN helps protect your personal information from websites, applications, and administrations that want to track your activity. Moreover, your ISP may also execute broadband throttling on you, which can be a reason why your ping goes unstable or sometimes too high, and the whole gaming experience goes unwell. Thus, you can use a VPN against this throttling by making your traffic complicated to monitor for the ISP.
Sometimes, the already available power is not enough to bring that smooth gameplay in an online game because of some video game titles' higher requirements. The only way to go beyond the base power is to safely overclock your hardware and wring out more FPS, which will keep you from being knocked out by another opponent with a higher FPS.
To safely overclock your GPU for maximum performance, Install any suitable GPU overclocking tool. Such tools are very easy-to-use and give you complete control over your GPU's power. MSI AfterBurner is the most popular choice among gamers. Using this software, you can push your Video memory and clock speed through simple slide options and get the best out of your GPU. But be aware, it might cause your system to overheat, which you can counter by manually pushing your fans to 100% via the OC tool's fan control and, most importantly, having a good cooling system to support further temp rise.
It is not so easy to find good digital titles and keep it all organized. Buying digital video games requires you to have a trusted seller, a proper platform to keep track of your purchases, and give you sale benefits whenever possible.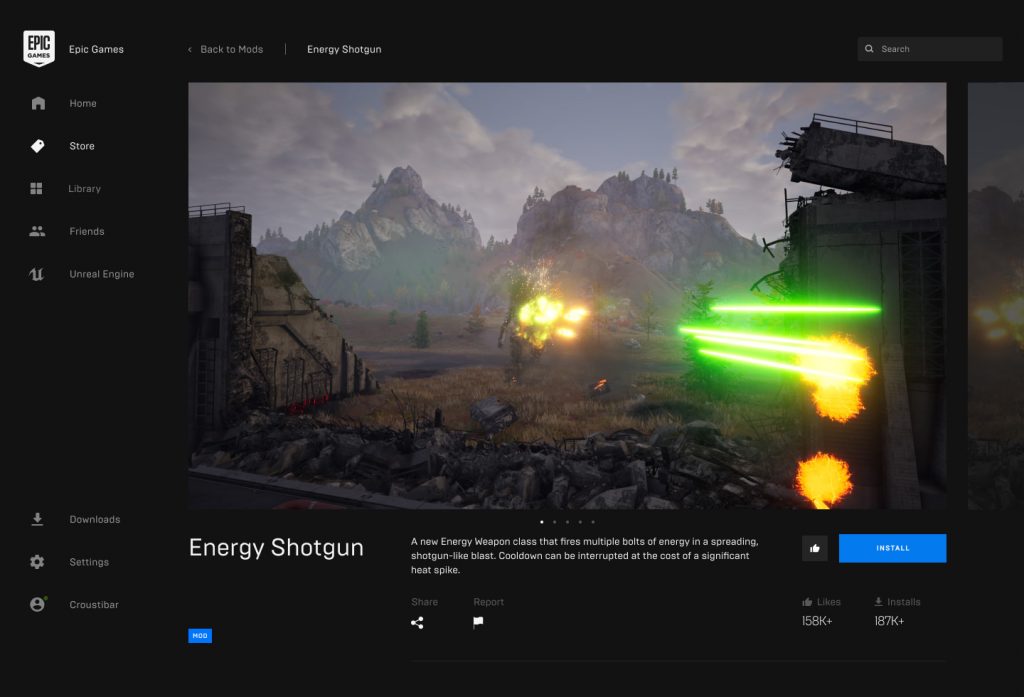 Digital games clients like Steam, Origin, and Epic Games Launcher are organized platforms and marketplaces where you can get your hands on some of the best free-to-play and famous p2p and indie games while also getting to make new online friends that you can play with. These clients bring a lot to the table for online video gaming, one of the most used platforms because they have made online gaming a lot easier. Once you get into it, you'll realize that it is packed with options to make online gaming convenient and fun. 
Communication is the key; This is also on-par for online gaming as it is for anything else. In online gaming, if you cannot communicate with your team in-game or before you get to start your party, you'll be missing out on something big. Being part of a team makes competitive online matches a lot easier, as is the case with teamwork. In any case, a great VoIP (voice over internet protocol) application is a must-have for all online gamers.
Communication platforms like Discord and TeamSpeak will help you keep up with all of your teammates and favorite players. You'll be able to connect with them in-game and even when you are just planning to get started. Discord also has a huge range of servers, where you can be a part of any community. Thus, it will help you communicate in an online game and help you find yourself a worthy teammate. It has voice, text, and video chat, so you can tune in however you want and be in the loop with your team.
These are some of the essential applications that will help boost your overall performance, so you can make it into the leagues of the pros, even if you are just starting. These applications will ultimately change your whole experience and bring convenience right up to your table. These apps will also help you personalize your experience, which is a priority if you favor having a noticeable impact on your gaming experience.