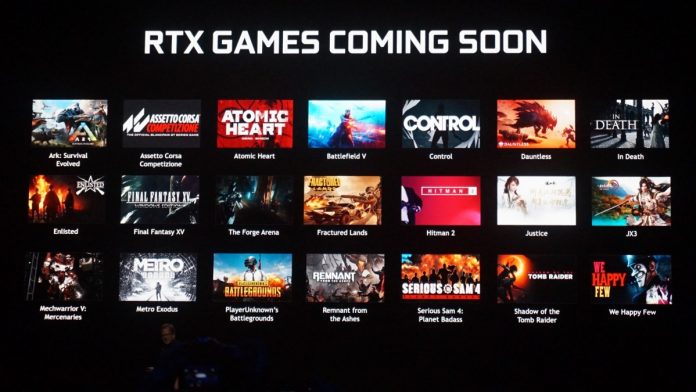 The presentation of the new Nvidia GeForce RTX 2000 Series revolved around Real-time Ray Tracing (real-time lighting), shadows and reflections technology, and after the presentation, it was announced that, officially, a minimum of 21 games will integrate this technology with now exclusive of the computers based on the Windows 10 operating system coupled with GeForce RTX graphics card.

Some of the examples shown at the event were Control by Remedy Entertainment, Shadow of the Tomb Raider by Square Enix, Battlefield V by DICE, or Metro: Exodus by 4A Games.
Other games are Assetto Corsa Competizione (Kunos Simulazioni), We Happy Few (Compulsion Games), Atomic Heart (Mundfish), PlayerUnknown's Battlegrounds, Serious Sam 4, JX3, Justice, Hitman 2, Final Fantasy XV, ARK: Survival Evolved and a couple more games. 21 games is moderate for launch, but Nvidia will need to keep pushing game developers to adopt this new technology. Nvidia is also working with Microsoft to push ray-tracing, thanks to the company's new DirectX Raytracing (DXR) API in Windows 10 to complement Nvidia's RTX work. Epic Games will also make real-time ray-tracing available to Unreal Engine developers later this year.
"The Nvidia RTX platform and the GeForce RTX Series 20 GPUs bring real-time ray tracing to games 10 years earlier than anyone could have imagined," said Tony Tamasi, senior vice president of content and technology in Nvidia.

"Thanks to the AI ​​and acceleration of Ray Tracing by built-in hardware in GeForce RTX GPUs, games that use these futuristic features are just around the corner."