The most popular of all Cryptocurrency (digital currency), the Bitcoin has managed to exceed the value of $ 2,000 specifically,  dollars 2,167.73. This currency began its digital circulation in 2009, and in just 7 years its value has skyrocketed in comparison with euro, pound, dollar or the yen. To give us an idea, only 1 year ago each Bitcoin cost 500 dollars, so in the last year the value of this money has increased by more than 4 times. No currency on the planet has even reached this figure.
1 Bitcoin
 Now Worth More Than $ 2,000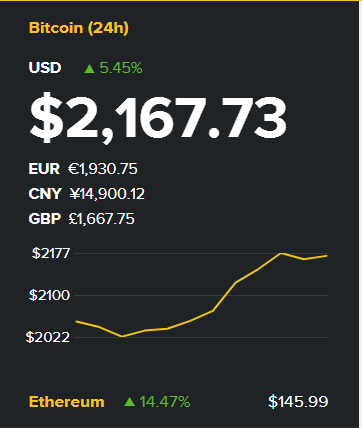 Obviously, this is good news for those who bought Bitcoins years ago, while those who have not invested money can only think of using a time machine to help us become millionaires in a very easy way and above all, in a rather short period of time.
Bitcoin is the first decentralized digital currency that can be sent over the internet. Compared to other alternatives, Bitcoins have a number of advantages such as the ability to transfer them over the net without going to the bank or clearinghouse, lower fees, possibility to use them in any country with no prerequisites or arbitrary limits.
The Bitcoins are being mined by programmers using powerful computers to solve complex math problems and when they succeed, they earn more Bitcoins as a reward.